Workshops for 2016 -2017
October 15,2016, Saturday –  Hawaiian Applique with Janet Elia, Lunenburg, 9:00 set up, 9:30 start, $45 (min of 10 participants)
This class will feature all aspects of Hawaiian Quilting, pattern selection, needle turn applique, marking the design and hand quilting.  No Machines!  Janet will provide the Hawaiian Breadfruit quilt design for you at the class.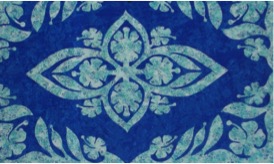 November 13,2016, Sunday –  Large tote bag with Janice Boutotte, Lancaster 9:00 set up, 9:30 start, $15
Supply List and Cutting Instructions (pdf)   Supply List and Quilting Instructions (docx)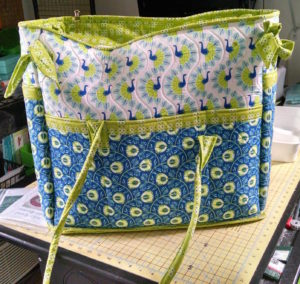 January 8, 2016, Sunday (same day as the Open Sew) – Service Your Machine  12:30 pm start in Lancaster with Cathy Racine owner of the Charleton Sewing Center.   Cost is 2 rolls of quarters.
Supply list: 
Small toothbrush

small paintbrush

screwdrivers used for your machine

exact matching thread for top and bobbin, piece of fabric

optional supplemental lighting if you need it
CANCELED – February 12, 2017, Sunday –  Crazy Quilting with Diane Charest, Lancaster, 9:00 set up, 9:30 start, $15 (min of 6 participants)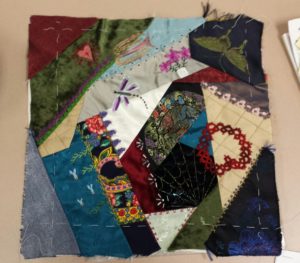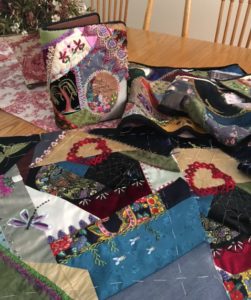 March 11, 2017, Saturday – Mini Landscape collage with Patty Sawyer, Lunenburg, 10:30 set up, 11:00 start, 1/2 day workshop. $45 (min of 10 participants)
Participants will learn to use the basic principles of color blending by arranging small squares of fabric to create a landscape image.  A finished and framed 5×7 collage will help inspire future color decisions.  A $10 kit fee payable to the instructor will be required by each student.  Kits will include all materials needed to develop the collage, however, students will be required to supply a frame and other necessary tools. Supply list available 3 weeks prior to class. 
CANCELED – April 15, 2017, Saturday – Miniature sampling of history, hand piecing  with Froncie Hoffhine Quinn , Lunenburg, 9:00 set up, 9:30 start , $52 and $5 materials fee payable to the instructor (min of 10 participants)
This class can be geared for the student who enjoys working in a group setting, but on an independent project. Based on the concept of the 4-inch blocks in the charming Sarah's Medallion, a mini-sampler quilt will be designed from an array of four-inch block patterns provided for the students and which have been miniaturized from the antique quilts. The sampler will be planned and begun under teacher supervision, but designed by each student. A booklet of settings and sashings is included, along with templates to be used in class (they are available for purchase, if desired).  Basic skills will be first reviewed and then everyone will explore and create! It's a lot of fun!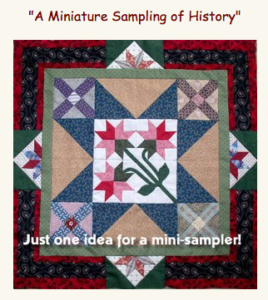 May 13, 2017, Saturday – Celtic knot with Bobbie Bergquist, Lunenburg, 9:00 set up, 9:30 start, cost $60 (includes kit cost) (min of 10 participants)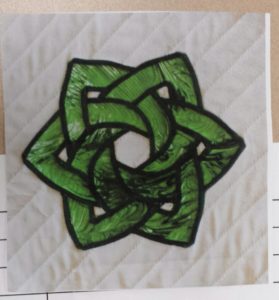 Workshops for 2015 -2016
October 18, 2015 9:30 – 3:30 – $35 in Lancaster
Round Robin in a Day Beth Helfter
Beth has develop this workshop to go along with her Program lecture.  Participants work on three other quilts in a six hour period to create a finished quilt top for every participant.
Working in three "rounds" or blocks of 1.5 hours per border, participants will design, create, and add each round's border to a quilt belonging to a different class participant, working on three other quilts in all. At the end of the workshop, each participant should have a completed 36″ square quilt that reflects not only themselves but the unique ideas and approaches to quilt making of his/her fellow workshop participants. (min of 10, max of 15 participants)  

Round Robin in a Day Supply List Oct 2015
December 13, 2015 at Open Sew in Lancaster – Mini-Workshops (approximately 1 hour each)
$5 for one or all workshops.  Sign- up at December meeting – payable day of the workshop
10-11 am Fabric Bowl – Lisa B
11-12 pm Bowl Shaped Pot Holder – Veronica
1-2 pm Fabric Origami Boxes – Debby
2-3 pm Ten-Minute Table Runner – Veronica
February 13,2016, Saturday  9:00-3:30 PM  $ 15  in Lunenburg
Log Cabin/Flower Paper Piecing with Janice Boutotte 
Learn the art and tricks of paper piecing with Janice. (min of 8, max of 20 participants)(deadline February 11, 2016)
Flower Baskets Sampler Workshop Supply List
March 13,2016, Sunday  10-3:30 PM  $25 in Lancaster

Learn the art of hand applique with Maureen Blanchard from Cobblestone Quilts.  Estimated Kit Cost $10.00 (min of 10, max of 20 participants)(Deadline February 28, 2016)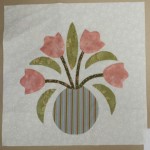 April 30, 2016, Saturday 9-3:30 $55 (includes kit cost) in Lunenburg
Learn hand and machine Sashiko with Allison Wilbur (includes kit cost)
A thorough introduction to the art of Sashiko.  Learn two methods to do the traditional Japanese art of sashiko – white stitching on indigo fabric.  We will talk about the history of sashiko in Japan and traditional patterns, learn different methods of marking your fabric, and stitch both by hand and on your domestic sewing machine.   Even if you have some knowledge of Sashiko, you will benefit from this workshop.
You will make two small projects – a needle and thread holder and a small bag. The class calls for the needle case to be done in the morning, by hand and the drawstring bag in the afternoon, by machine.  If participants wish to do both projects by hand, they may do so. (min of 12, max of 20 participants) (deadline March 29, 2016)
May 14, 2016, Saturday 9-3:30 $15  in Lunenburg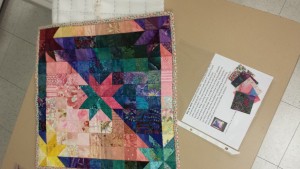 Colorwash Hunter's Star with Janice Boutotte (min of 6, max of 20 participants)(deadline May 12, 2016)
Colorwash Hunter Star Supply List
Workshops from 2014 -2015
October 5, 2014  9 – 3:30 PM  Birdie Sling Bag with Laura Sexton  Lancaster  $20 + $8 pattern fee
November 8, 2014 9 – 3:30 PM Hope Diamond Applique Quilt  lead by Sue Pelland   Lunenburg $35
December 14, 2014 10-4 PM   Open Sew for holiday projects Free
January 11, 2015 10 AM -4 PM  Disappearing Pinwheel/Hourglass Class Charm Pack Workshop with Veronica     Lancaster  $15
January 31, 2015 Featherweight Attachment Class with Cathy Racine at Charlton Sewing Center.
April 25, 2015  9AM – 4:30 PM Lunenberg $40 Lisa McCarthy (Compass Quilts): BeColorful workshop
May 30-31st,  2015 9-3:30 PM   Bargello Quilt Workshop with Ann Lainhart     Lunenburg  $50