Civil War Reproduction Quilt
Reproduction Fabrics — Hand Pieced — Hand Quilted
The 150th anniversary of the Civil War
Quilted with Iron Work Farm in Acton, Inc.
Finished quilt was approximately 85"x85". Quilt was provided with a documentation booklet of historical facts and our period block names. Made by Mothertown Quilters of Lancaster, MA with help from Iron Work Farm.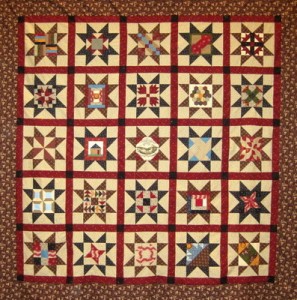 —————————–
The Making of a Civil War Quilt…
On Patriots Day 2009, several MQ members participated in the Iron Work Farm Civil War reenactment, demonstrating hand sewing and quilting.  As a result of this demonstration, we decided to work with IWF and make a Civil War reproduction quilt to raffle off for the benefit of both of our organizations. The early planning sessions took place in late summer, with the selection of fabric colors and block patterns.
Soon, the quilt started taking shape…The participants made a lot of progress at the MQ retreat in February.  We get together to put all the squares together and start on the borders…And, just before Patriots Day, 2010, the top was finished!
On April 18th we took the quilt top to IWF to get set up for Patriots Day! We also set up a "practice frame" to work on our quilting technique before tackling the real quilt.  Even though the horse and rider "alarm" failed to make it, the minutemen put on a little show us.
The top was hand quilted to the batting and back.  The finished quilt was raffled off to Judy Rice of Acton on Patriots Day, 2011, at Iron Work Farm in Acton, MA.