---
Workshops have a 20 person limit, unless otherwise noted, and require pre-registration and payment. Non-guild members are welcome and must register prior to the workshop. Non-members fees will be an additional $5.  Some classes have additional fees, payable to the instructor on the day of class.  Refund and cancellation policies are on Policy page.  If you want to register or have a question please email us
Lancaster location – the Village Seventh Day Adventist Church on 75 Sawyer St at the corner of Sawyer and Prescott
Lunenburg location – the United Parish House, 39 Main St. (the hall is across the street from the church)
Workshops for 2017 -2018
October 21, Saturday: Diane Charest – Crazy Quilting 9:00 set up, 9:30 start, (min of 6 participants) (Lunenburg) $15 for workshop
Materials to bring:
Sewing machine

fabric scraps – minimum size 5″ x 8″

neutral/white thread for machine piecing

small embroidery scissors

embroidery floss, beads, buttons, silk ribbon for embellishing
asst. needles, embroidery and deading
6″ embroidery hoop
Material provided by Diane
iron and board

muslin for the base of your square

black velvet and various fabrics (limited)

various needles

beads, ribbon, buttons and various embellishments

stitch charts with common CQ embroidery stitches
We are going to make an approx. 12″ Victorian era square.  If you prefer you may use cotton to make a more modern square.  Diane will only be ringing Victorian square fabrics such a velvet, brocade, etc. for the squares.  If you prefer cotton bring your own varied pieces.  Victoria squares typically start with a black velvet center piece.  Diane will provide the velvet.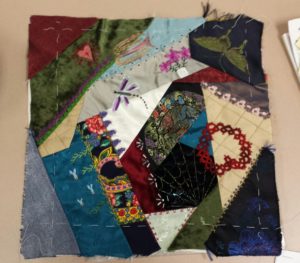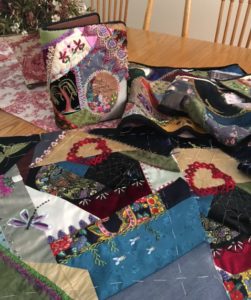 November 5, Sunday: Kathy Graves – ¾ Log Cabin Workshop (Lancaster)  $35 for the workshop. $15 for a supplemental fabric kit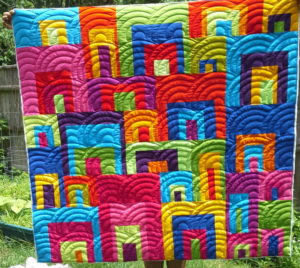 Three Quarter Log Cabin (pdf) Three Quarter Log Cabin (docx)
January 14, 2018 Sunday: Barbara Perilli-Palmer – Bag Workshop (Lancaster) $15 for workshop.  We will be making the Lazy Girl Candice Bag. Pattern can be purchased at The Quilted Crow for about $13. Lazy Girl Bag Information with Material List.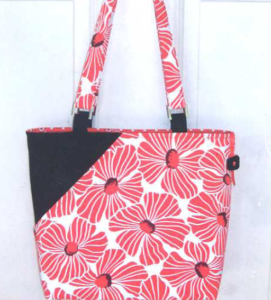 February 3, 2018 Saturday: Christa Nee – Beginner Free Motion/Doodle Quilting on your home sewing machine (Lunenburg) $15 for workshop –  In this class you will make samples of several free motion quilting designs.  Learn to feel comfortable doodling these designs on your quilts, becoming a confident quilter on your personal machine!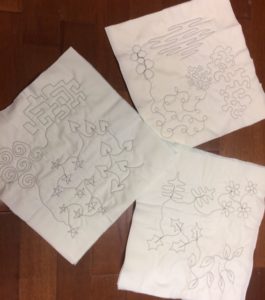 Items needed for class:
Sewing machine with ability to drop feed dogs, instruction manual for your machine

Free motion foot or darning foot.  If your machine has a spring action free motion foot, bring that.  Any of these are okay though.

6-8 15″ quilt sandwiches with batting and muslin, held together with whatever you normally use:  safety pins, glue spray

Scrap paper or sketch pad  and pencil

Fresh needle for your machine

Thread 50 or 60 weight, darker color than the muslin
March 11, 2018 Sunday:  Janice Boutotte – Curves and Circles Workshop -$15 for workshop (Lancaster). This is a techniques workshop, focusing on four different techniques for machine sewing curves and circles: insetting circles (center medallion); improvisational curves, including cutting and sewing pieced gently curved blocks; gentle curves (Drunkard's Path blocks); and faux scallop edges (borders).
Curves & Circles Supply List(docx)    Curves & Circles Supply List(pdf)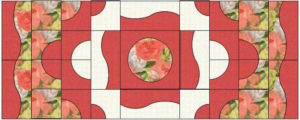 April 15, 2018 Sunday: Janice Boutotte & Vicky Haskell – Finishing Treatments a.k.a. Border Zone a.k.a. The Edge of Reason Workshop (Lancaster) $15 for workshop.  This workshop will focus on those last finishing touches that go into the borders and edges of a quilt. It is at that point that you have the main central section of a quilt done, you may even have a border attached, or have some ideas about that border and you are scratching your head asking yourself, "what next?". This workshop will present some of those options you've seen, but may not have had the courage to try, like scalloped edges, prairie points, and flanges, as well as that bogey man we all avoid – the math and planning to make it work.  We will cover:
Scalloped Edges
Prairie Points
Paper Pieced Projects – like hexagons with irregular edges
Flanges – those cute little folded edges
Mitered Corners vs. Corner Blocks
How to Measure and attach the border without getting wonky borders
Math! How to space and plan so everything fits. What to do when one side is a multiple of three and the other a multiple of two? Proportions of the border to the individual block and quilt as a whole. How to handle corners when you've added a fancy edging.
Additional options for how to integrate those scallops, flanges or points into the work.
Borders Workshop Materials List(pdf)  Borders Workshop Material List(docx)
May 20, 2018 Sunday: Veronica  Rose – String Blocks!  (Lancaster) $15 for workshop    Learn how to use up those scraps and make an easy 9-patch quilt. Simple construction with stunning results.
Items needed for class:
Sewing machine with a needle, thread, and full bobbins.

Thin sheets of paper – Newsprint or an old phone book (I will have some for sale if you don't have any available.)
Scraps – 1″ or wider
1 yard of a solid/semi-solid fabric that will make those scraps pop! (Example uses Kona black)
Ruler, cutting mat and rotary cutter for squaring up and scrap wrangling.
small scissors

a travel iron is handy for flatting the scraps that have been jammed in the bag too long! (one will be available to share if you don't have one.)