---
Workshops have a 20 person limit, unless otherwise noted, and require pre-registration and payment. Non-guild members are welcome and must register prior to the workshop. Non-members fees will be an additional $5.  Some classes have additional fees, payable to the instructor on the day of class.  Refund and cancellation policies are on Policy page.  If you want to register or have a question please email us
Lancaster location – the Village Seventh Day Adventist Church on 75 Sawyer St at the corner of Sawyer and Prescott
Lunenburg location – the United Parish House, 39 Main St. (the hall is across the street from the church)
Workshops for 2017 -2018
October 21, Saturday: Diane Charest – Crazy Quilting 9:00 set up, 9:30 start, (min of 6 participants) (Lunenburg) $15 for workshop
Materials to bring:
Sewing machine

fabric scraps – minimum size 5″ x 8″

neutral/white thread for machine piecing

small embroidery scissors

embroidery floss, beads, buttons, silk ribbon for embellishing
asst. needles, embroidery and deading
6″ embroidery hoop
Material provided by Diane
iron and board

muslin for the base of your square

black velvet and various fabrics (limited)

various needles

beads, ribbon, buttons and various embellishments

stitch charts with common CQ embroidery stitches
We are going to make an approx. 12″ Victorian era square.  If you prefer you may use cotton to make a more modern square.  Diane will only be ringing Victorian square fabrics such a velvet, brocade, etc. for the squares.  If you prefer cotton bring your own varied pieces.  Victoria squares typically start with a black velvet center piece.  Diane will provide the velvet.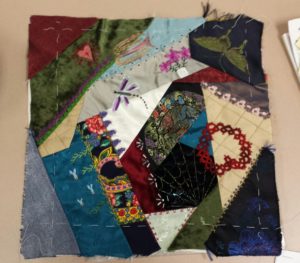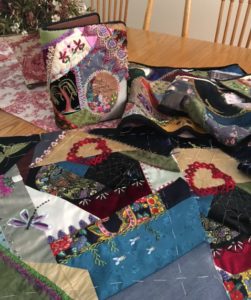 November 5, Sunday: Kathy Graves – ¾ Log Cabin Workshop (Lancaster)  $35 for the workshop. $15 for a supplemental fabric kit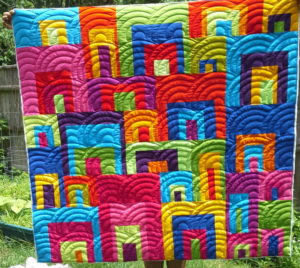 Three Quarter Log Cabin (pdf) Three Quarter Log Cabin (docx)
January 14, 2018 Sunday: Barbara Perilli-Palmer – Bag Workshop (Lancaster) $15 for workshop.  We will be making the Lazy Girl Candice Bag. Pattern can be purchased at The Quilted Crow for about $13. Lazy Girl Bag Information with Material List.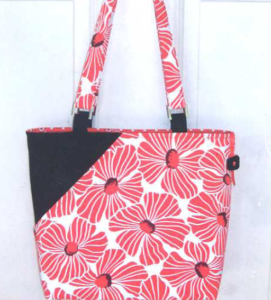 February 3, 2018 Saturday: Christa Nee – Beginner Free Motion/Doodle Quilting on your home sewing machine (Lunenburg) $15 for workshop –  In this class you will make samples of several free motion quilting designs.  Learn to feel comfortable doodling these designs on your quilts, becoming a confident quilter on your personal machine!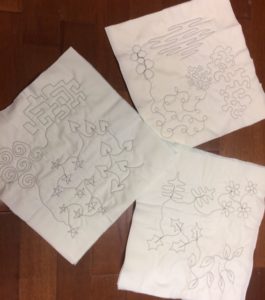 Items needed for class:
Sewing machine with ability to drop feed dogs, instruction manual for your machine

Free motion foot or darning foot.  If your machine has a spring action free motion foot, bring that.  Any of these are okay though.

6-8 15″ quilt sandwiches with batting and muslin, held together with whatever you normally use:  safety pins, glue spray

Scrap paper or sketch pad  and pencil

Fresh needle for your machine

Thread 50 or 60 weight, darker color than the muslin
April 15, 2018 Sunday:  Janice Boutotte & Vicky Haskell – Borders  (Lancaster) $15 for workshop
May 19, 2018 Saturday: Iva  – Mystery Quilt (Lunenburg) – Finish a Mystery Quilt top in one day. $15 for workshop
Don't you love a mystery? Interested in high contrast? How about using up those small scraps? Well here is a way for you to have it all. Both new and experienced quilters will enjoy this mystery. We will be cutting, designing and sewing — with every step a surprise.  You'll go home with a finished top, whether you stay part of the day for a wall hanging or the whole day for twin or even bigger.  A suggested materials list will be posted in the future with fabric requirements for different sizes.