"We Love to Quilt!"
We are the Mothertown Quilters Guild of Lancaster, Massachusetts.
Hope you saw us at the Bolton Fair!! If you purchased a charm pack (5″ squares) here are the patterns for some of the items at the fair.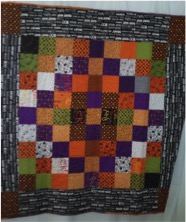 Larger Quilt – 81 squares (9 x 9 – two packs) + 4 additional squares in the border. Finished size 50″ x 50″
Smaller Quilt for car seat or stroller – 42 squares (6 x 7 – one pack)   – no border. Finished size 27″ x 32″
A good source for charm square quilts is Missouri Star Quilts YouTube videos.
Table Runner – Click here for instructions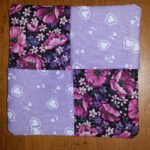 Coaster – 5 squares. Finished size 4.5″ x 4.5″
More about us!  We had our first meeting in the spring of 2008.  Our guild is small but very active in helping our surrounding communities.  If you want to contact us click here to send us an email or if you'd like to reach us by mail.
Mothertown Quilters
P.O. Box 223
Lancaster, MA 01523-0223
We meet the second Tuesday of the month at 7 pm with social time at 6:30 pm, from September through June, in the Fellowship Hall of the Village Church, South Lancaster (park in the fenced lot at the corner of Sawyer and Prescott and come in the back door).Visitors are always welcome at our meetings.  We only ask that you  pay a $5 guest fee.
Membership is closed at this time but we are delighted to put you on a waitlist.  We do expect a number of slots to open up in September 2016.  Click here to send us an email